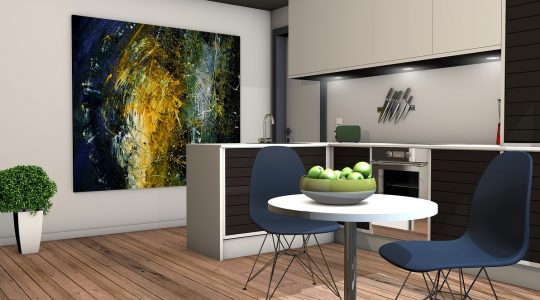 7 Advantages Of Using Drywall
The building materials used for constructing or remodelling a commercial building are very important because they dictate how durable and resistant to wear and tear that property will be.
For example, more and more people choose to use drywall instead of plaster when remodelling their properties and they make a great decision. If you don't currently have drywall in your building yet, here are some of the most important advantages you can reap if you use it.
Drywall is easier to repair
In a similar fashion, drywall is as durable as plaster, but in the case of damages such as chips, cracks and holes, drywall is easier and quicker to repair, not to mention cheaper. That is why drywall is preferred over plaster by a lot of businessmen and commercial building owners. Additionally, drywall is also fire-resistant because it is made from a tough material (gypsum) which prevents the spreading of fire in the entire building. As a result, the owner of the building will have more peace of mind if he installs drywall and his property will be safer too.
Drywall can be mould-resistant and moisture-resistant
Another excellent advantage of drywall is the simple fact that it can be fully customized according to the needs and preferences of the clients. For example, those who are concerned about the growth of mould in their commercial buildings should go for drywall which is mould resistant. Also, other types of drywall are moisture resistant as well and they can protect the property just as well.
Drywall can be soundproofed as well
Nothing can be better than having a soundproofed property. Business owners who like to work in their offices without being bothered by street noises should invest in the drywall that is soundproofed. This product ensures the silence and quietness of the property and it does not cost a fortune.
Drywall is energy-efficient
Every business owner wants to pay less for his energy bill and thanks to drywall, this is entirely possible nowadays. This great construction material provides a lot of insulation power and as a result, the heat remains in the building during cold winters and the coolness as well in hot summers. Although the energy savings are quite small at first, clients will find out the true value of drywall in the long run when they will have already saved a substantial amount of money.
It is faster to build using drywall
In comparison with other construction materials such as plaster, drywall is much easier to build with and this is one big reason why so many businessmen and company owners prefer it. Building with drywall is actually 5 to 8 times faster than using other construction materials. As a result, businessmen and company owners can save a lot of time and the productivity in their buildings won't be affected during the renovation process.
Drywall feature smooth surfaces
Drywall is also aesthetically pleasing and it will fit perfectly in any company or building. It features a crack-free, smooth, seamless surface that looks very elegant and attractive in any office and its aesthetic value will help the employees and workers enjoy working in a beautiful environment.
Drywall is recyclable
These construction materials can be used again in the future and be using them to renovate a company or commercial building is highly recommended. Not only that the clients who choose drywall as construction materials can help save the environment, but they will also be seen as contributing positively towards the green movement because they use eco-friendly products in their companies.
If you want to take advantage of all the benefits and advantages drywall offer then you need to hire a professional commercial drywall contractor who can install them in your commercial building. Contact us today, speak with one of our specialists and let us take care of this job at an affordable price.